Program ID Card Benefits
The program ID Card is your ticket to receive all of the benefits listed below. It is an individual card and cannot be shared with another person; your picture and ID number are printed on the card.
The ID card is a lifetime card that is reactivated each year you register for the program. So, if you already have a card, bring it with you for reactivation. If you have lost your card, you may obtain another one from the USU Card Office for a replacement fee of $15 per card.
T-Shirt
Every Summer Citizen who is registered by April 30 will receive a Summer Citizens t-shirt. Having a new design every year makes it fun to collect all you can! Order your size carefully when you register using the chart below. T-shirts will not be exchanged for a different size. Shirts are not available for purchase.
T-Shirt Sizing
T-shirts are unisex cut and are cotton/poly blend that shouldn't shrink. Lay a favorite t-shirt flat and measure the front chest area from seam to seam and compare it to the chart below.
| Shirt Size | S | M | L | XL | 2XL |
| --- | --- | --- | --- | --- | --- |
| Chest | 18" | 20" | 22" | 24" | 26" |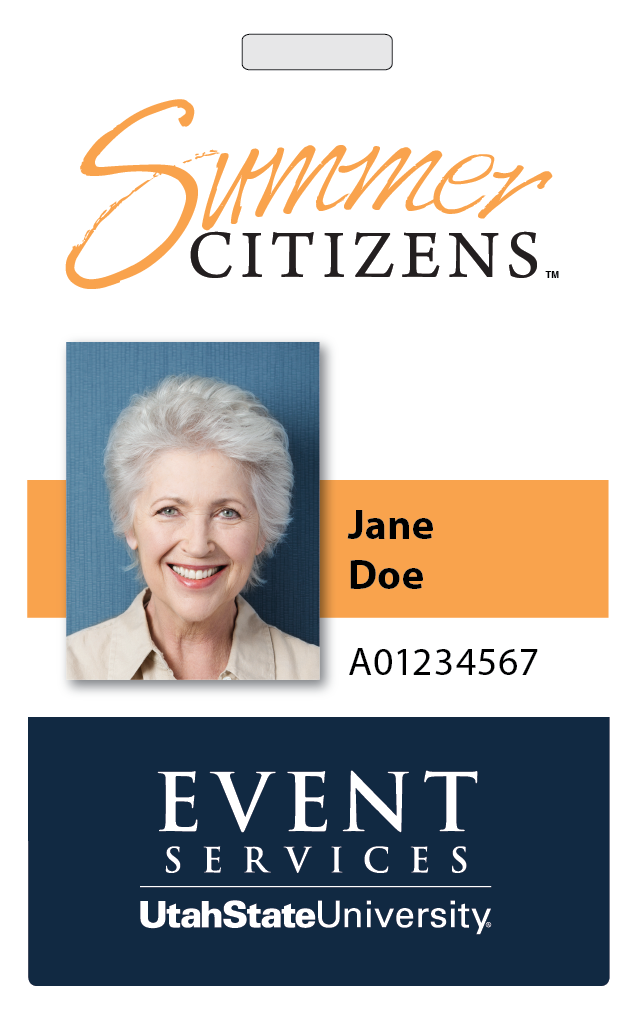 Special Discounts
T-shirt Tuesday Sponsor Discounts – Participating retailers will offer a Summer Citizen special on Tuesdays for those who wear their T-shirts to the business.
Coupon Book – every registered participant will receive a coupon book with special discounts offered by many different local retailers.
Welcome Packet with Local Sponsor Information & Discounts – A bag stuffed with flyers and discount offerings.
Sponsored Events
These events are sponsored by the Summer Citizens Program and require an ID card to attend.
Welcome Orientation & Merchant Fair
Mid-Summer Orientation & Merchant Fair
Ice Cream Social with the Logan City Mayor
Annual Open House with Housing Sponsors
Closing Social, Luncheon & Talent Show
Communication Updates
Email Updates Through the Summer
Email List of Weekly Events from the Cache Valley Visitors Bureau (CVVB)
E-Newsletters in May, June and July
Special Interest Groups
When you register for the program, you will be able to select from a variety of interest groups. You can select as many as you'd like and you will be connected to all the people in each of the groups. Groups may include: Hiking, Biking, Birding, Pickleball, Golf, Tennis, Bridge, Mahjong, Scrabble, Billiards, etc.
USU Parking Pass
A USU parking pass is provided for each Summer Citizen vehicle. Parking is provided in the covered Big Blue Parking Terrace on 700 North for 4 hours each day. Unlimited parking is also provided in several open lots around campus. These lots are color coded and include Black, Orange, Blue, Gray and Yellow.
USU Services
USU Computer Lab Access
USU IT Help Desk Assistance
USU Library Access
USU Campus Tours
---
Options Available for an Additional Fee (offered only to paid program participants)
Wide Variety of Educational Courses & Fitness Classes Offered Throughout the Summer
Guided Travel Adventure Tours
USU Campus Recreation passes to the Aggie Recreation Center (ARC) and/or the Health Physical Education & Recreation Building (HPER). Rates are available for the entire summer, monthly or daily use.
USU Personal Training Programs & Fitness Classes
USU Outdoor Programs — Canoe Trips, etc.
USU Aggie Express Card — Turn your ID Card into a pre-loaded debit card and get a 10% discount at USU Dining locations and the Campus Store.